Please join us at East Athletic field on Saturday August 17, 2019 for football, cheer, chicken BBQ, and vendor fair!
TFC Football & Cheerleading
PROUD HOME OF THE.....
Mohawks (90 lb), Renegades (110 lb),
Braves (135 lb), & Warriors (160 lb)
OUR MISSION
To provide our children a positive, fun and safe environment to play and learn the fundamentals of football and cheerleading. We are dedicated to giving them the opportunity to develop strong values in teamwork, sportsmanship, respect, responsibility and skill development.
_____________________________________________________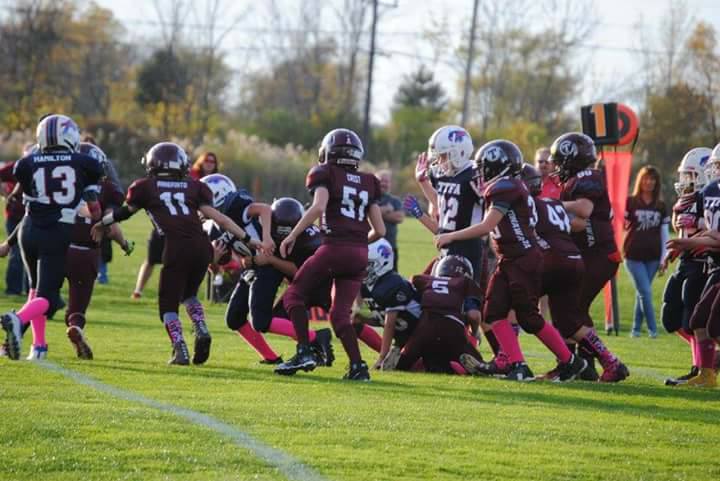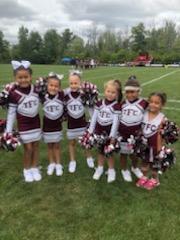 TONAWANDA FOOTBALL CLINIC
296 EAST NIAGARA STREET
TONAWANDA, NEW YORK, 14150
716-692-0949
TFC has been teaching children the game of football and the skills of cheerleading since 1958. 2018 was our 60th season of football in Tonawanda. This organization competes within the Western New York area as a founding member of the Niagara Erie Youth Sports Association (NEYSA). Our facilities are located along the historic Erie Canal in the City of Tonawanda. Many alumni have returned to have their children play for TFC, others have returned as coaches. The different age groups and weights for football players are as follows: (ages as of July 31st)
Mini- Mohawks 6-7 yrs old 90lbs (UNLIMITED striper weight)
(*NOTE: 5 year olds who turn 6 ON OR BEFORE October 31 of the current year will be allowed to play on the Mini Level)
Freshman- Renegades 8-9 yrs old 110lbs. (UNLIMITED striper weight)
JV- Braves 10-11 yrs old 135lbs (UNLIMITED striper weight)
Varsity- Warriors 12-13 yrs old 160lbs (UNLIMITED striper weight)
(**NOTE: 13 year olds who turn 14 ON OR AFTER July 1st of the current year will be allowed to play on the Varsity Level)
Cheerleading registration is broken down by school grades:
Mini (1st-2nd) Freshman (3rd-4th) JV (5th-6th) Varsity (7th-8th)
Official weigh-ins occur prior to the 1st regularly scheduled game of the season. An additional weigh-in is optional before the 4th regularly scheduled game for those "striper" players striving to be reclassified as a "non striper". For more information regarding striper and non stripers, please contact our football commissioner, using the contact info listed below.
Make sure to check out the concession stand! Run with the help of volunteers, the TFC Concession stand is a favorite of just about anyone that comes to enjoy a day of football and cheerleading. From ice cold drinks on those long summer days, to hot beverages for those games late in the year, make sure to stop in and support the organization.
Please join us for our monthly membership meetings. Check out the calendar to find out when the next meeting will be. New members welcome to apply. If you would like information on registering your child for football or cheerleading, please call Dan Coad at 716-598-8290 (football) or Lisa Finiki-Hitzges at 716-444-8979 (cheerleading)
Registration includes Football & Cheerleader games and practices, end of season banquet & banquet book. All equipment (pads, pants, helmet-to be returned) is provided for football and they are also given a jersey and mouth guard to keep. Cheerleading uniform (to be returned) is provided and cheerleaders are also given a pair of sneakers, briefs, crop and a bow to keep (additional fee may be assessed for warm-ups). All participants are required to participate in fundraising in addition to the registration fee. A separate check of $50.00 is REQUIRED but will be returned upon completion of set volunteer time. Volunteer hours can be signed-off on by any TFC coach, board member or officer.
Members can join our Facebook group page "Tonawanda Football Clinic", located in the Facebook section for additional up to date communications.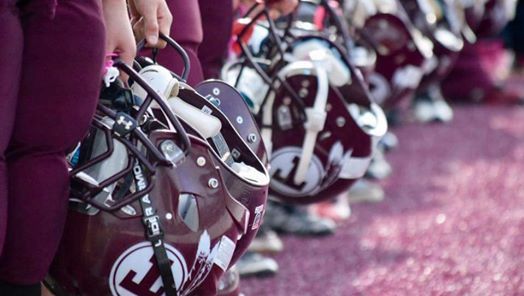 2019 Football Coaches:

Mokawks 90lb (Mini's): Shawn Keleman
Renegades 110lb (Freshman): Jimmy Stevens
Braves 135lb (JV): Rich Pierce
Warriors 160lb (Varsity): N/A
2019 Cheer Coaches 
Mohawks (Grades K-2): TBD
Renegades ( Grades 3-4): TBD
Braves (Grades 5-6): TBD
Warriors (Grades 7-8): TBD 
2018 TFC Officers:
Commissioner: Dan Coad
President: Phil Shields
Vice President:
Cheer Coordinator:
Recording Secretary: Debbie Di James
Corresponding Secretary: Jimmy Stevens
Treasurer: Janelle Stevens

Board of Directors:
Dan Coad
Debbie Di James 
Jimmy Stevens
Scott Reed
James Will
Brandon McGuire 
TFC Committee Leaders:
Concessions: Debbie Di James
Building & Grounds: James Will
Equipment Manager: Brandon McGuire
Banquet/Fundraiser: Lisa Finiki-Hitzes
Website Administrator: Todd Gallo + Richard Pierce
Facebook Administrator: Richard Pierce 
2019 TFC Registration